Pure Albion Privacy Policy

-----

This Privacy Policy describes how your personal information is collected, used, and shared when you visit or make a purchase from purealbion.com (the "Site").

PERSONAL INFORMATION WE COLLECT
When you visit the Site, we automatically collect certain information about your device, including information about your web browser, IP address, time zone, and some of the cookies that are installed on your device. Additionally, as you browse the Site, we collect information about the individual web pages or products that you view, what websites or search terms referred you to the Site, and information about how you interact with the Site. We refer to this automatically-collected information as "Device Information".

We collect Device Information using the following technologies:
- "Cookies" are data files that are placed on your device or computer and often include an anonymous unique identifier. For more information about cookies, and how to disable cookies, visit http://www.allaboutcookies.org.
- "Log files" track actions occurring on the Site, and collect data including your IP address, browser type, Internet service provider, referring/exit pages, and date/time stamps.
- "Web beacons", "tags", and "pixels" are electronic files used to record information about how you browse the Site.

Additionally when you make a purchase or attempt to make a purchase through the Site, we collect certain information from you, including your name, billing address, shipping address, payment information (including credit card numbers, email address, and phone number. We refer to this information as "Order Information".

When we talk about "Personal Information" in this Privacy Policy, we are talking both about Device Information and Order Information.

HOW DO WE USE YOUR PERSONAL INFORMATION?
We use the Order Information that we collect generally to fulfill any orders placed through the Site (including processing your payment information, arranging for shipping, and providing you with invoices and/or order confirmations). Additionally, we use this Order Information to:
- Communicate with you;
- Screen our orders for potential risk or fraud; and
- When in line with the preferences you have shared with us, provide you with information or advertising relating to our products or services.

We use the Device Information that we collect to help us screen for potential risk and fraud (in particular, your IP address), and more generally to improve and optimize our Site (for example, by generating analytics about how our customers browse and interact with the Site, and to assess the success of our marketing and advertising campaigns).

SHARING YOUR PERSONAL INFORMATION
We share your Personal Information with third parties to help us use your Personal Information, as described above. For example, we use Shopify to power our online store--you can read more about how Shopify uses your Personal Information here: https://www.shopify.com/legal/privacy. We also use Google Analytics to help us understand how our customers use the Site -- you can read more about how Google uses your Personal Information here: https://www.google.com/intl/en/policies/privacy/. You can also opt-out of Google Analytics here: https://tools.google.com/dlpage/gaoptout. We also use Facebook Conversion Tracking Pixel service of Facebook Inc., 1601 S. California Ave., Palo Alto, CA 94304, USA ("Facebook"). This tool allows Pure Albion, LLC to follow the actions of users after they are redirected to a provider's website by clicking on a Facebook advertisement. We are thus able to record the efficacy of Facebook advertisements for statistical and market research purposes. The collected data remain anonymous. This means that we cannot see the personal data of any individual user. However, the collected data are saved and processed by Facebook. Facebook is able to connect the data with your Facebook account and use the data for their own advertising purposes, in accordance with Facebook's Data Use Policy found under: https://www.facebook.com/about/privacy/. Facebook Conversion Tracking also allows Facebook and its partners to show you advertisements on and outside Facebook. In addition, a cookie will be saved onto your computer for these purposes.

Finally, we may also share your Personal Information to comply with applicable laws and regulations, to respond to a subpoena, search warrant or other lawful request for information we receive, or to otherwise protect our rights.

BEHAVIORAL ADVERTISING
As described above, we use your Personal Information to provide you with targeted advertisements or marketing communications we believe may be of interest to you. For more information about how targeted advertising works, you can visit the Network Advertising Initiative's ("NAI") educational page at http://www.networkadvertising.org/understanding-online-advertising/how-does-it-work.

You can opt out of targeted advertising by using the links below:
- Facebook: https://www.facebook.com/settings/?tab=ads
- Google: https://www.google.com/settings/ads/anonymous
- Bing: https://advertise.bingads.microsoft.com/en-us/resources/policies/personalized-ads

Additionally, you can opt out of some of these services by visiting the Digital Advertising Alliance's opt-out portal at: http://optout.aboutads.info/.

DO NOT TRACK
Please note that we do not alter our Site's data collection and use practices when we see a Do Not Track signal from your browser.

YOUR RIGHTS
If you are a European resident, you have the right to access personal information we hold about you and to ask that your personal information be corrected, updated, or deleted. If you would like to exercise this right, please contact us through the contact information below.

Additionally, if you are a European resident we note that we are processing your information in order to fulfill contracts we might have with you (for example if you make an order through the Site), or otherwise to pursue our legitimate business interests listed above. Additionally, please note that your information will be transferred outside of Europe, including to Canada and the United States.

DATA RETENTION
When you place an order through the Site, we will maintain your Order Information for our records unless and until you ask us to delete this information.

CHANGES
We may update this privacy policy from time to time in order to reflect, for example, changes to our practices or for other operational, legal or regulatory reasons.

CONTACT US
For more information about our privacy practices, if you have questions, or if you would like to make a complaint, please contact us by e-mail at info@purealbion.com or by mail using the details provided below:

Pure Albion
Emily Dobbins-Verbeke
410 S. Superior St. Albion Michigan US 49224

-----
Andrew Arndts
Andrew is a graduate of Albion Senior High School and currently lives in Albion. He started woodworking in 2002 and transitioned to wood turning in 2008. Andrew is now a professional wood turner and creator of unique heirloom gifts, writing instruments, and other wood goods.
Shop Now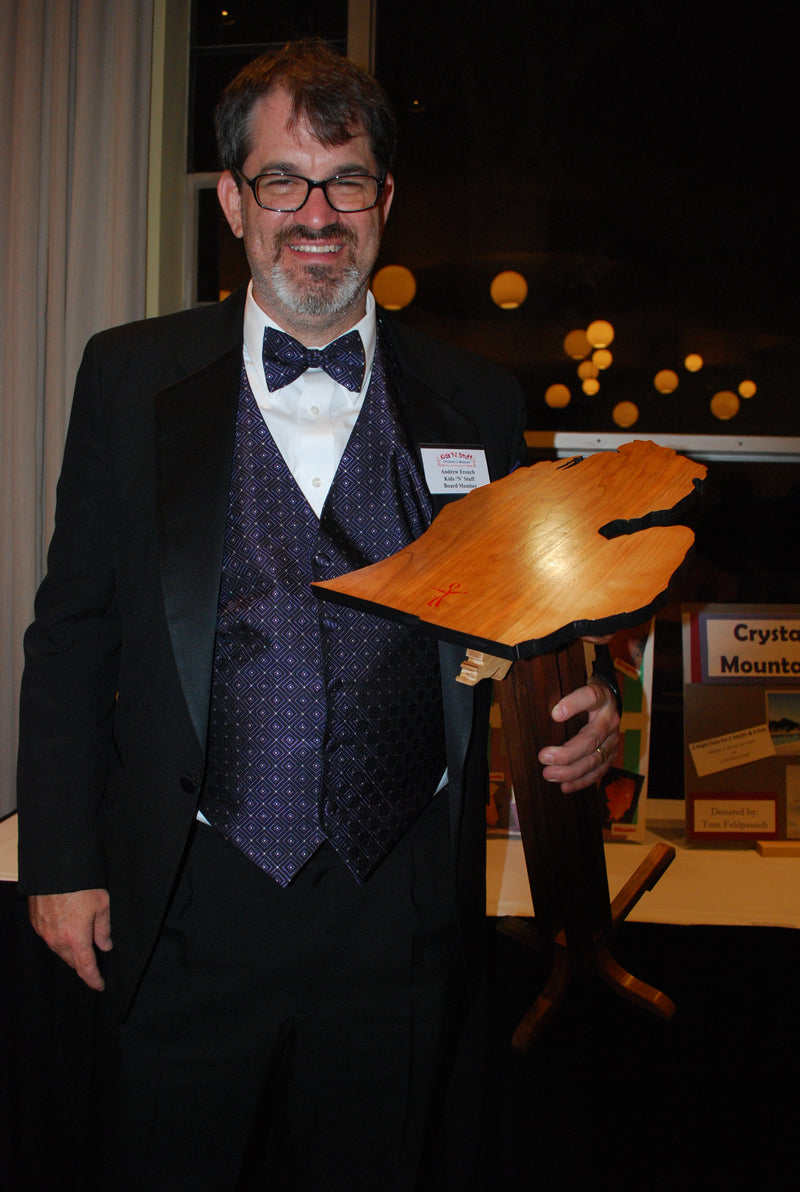 Andrew French
Dr. French has been a resident of Albion over 20 years, and active throughout the community with different organizations. He handcrafts so truly amazing wood pieces.
Shop Now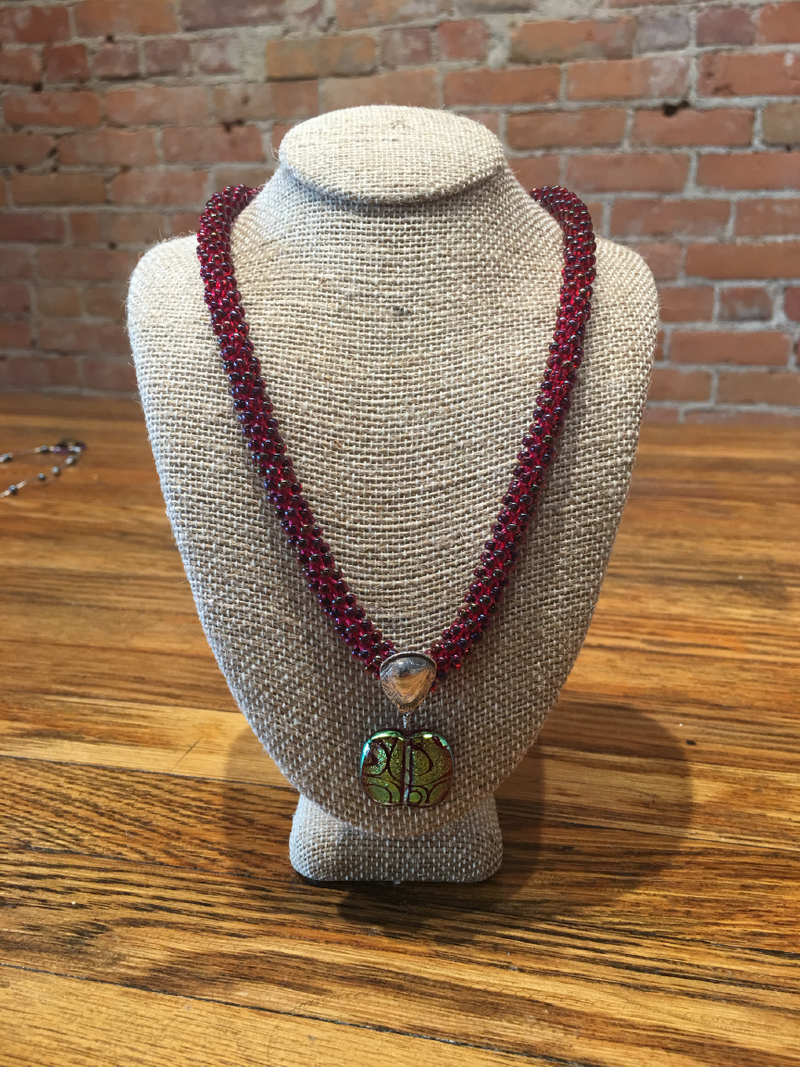 Bobbie Van Eck
Bobbie calls Albion home, and she is also a graduate of Albion College. Bobbie's pieces are full of bright colors, textures and lots of contrast, achieved by layering glass and melting it together with a kiln. 
Shop Now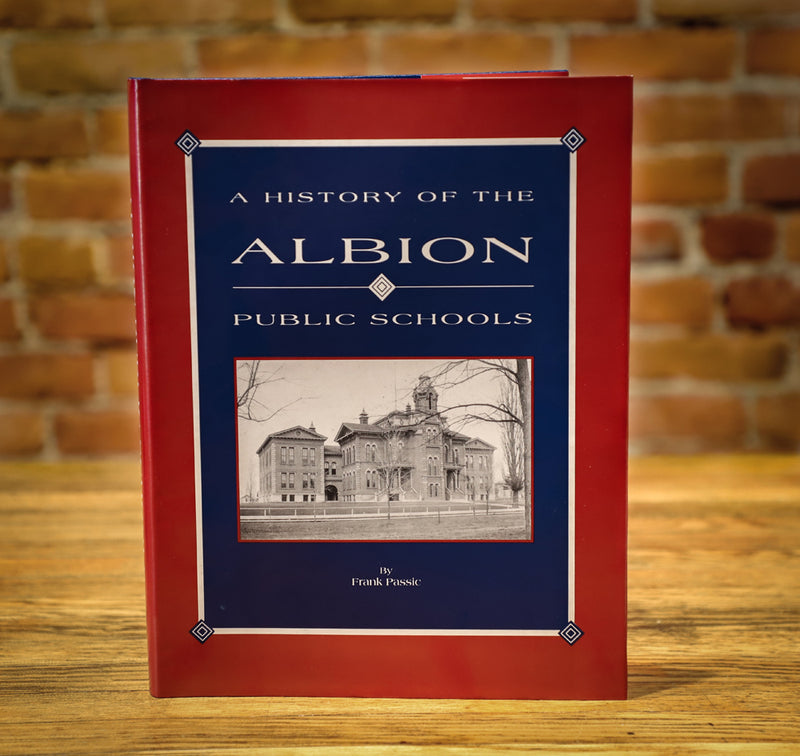 Frank Passic
Frank Passic is an Albion native and Albion's historian. Mr. Passic has been writing articles and books about Albion's history in various publications of since 1976.
Shop Now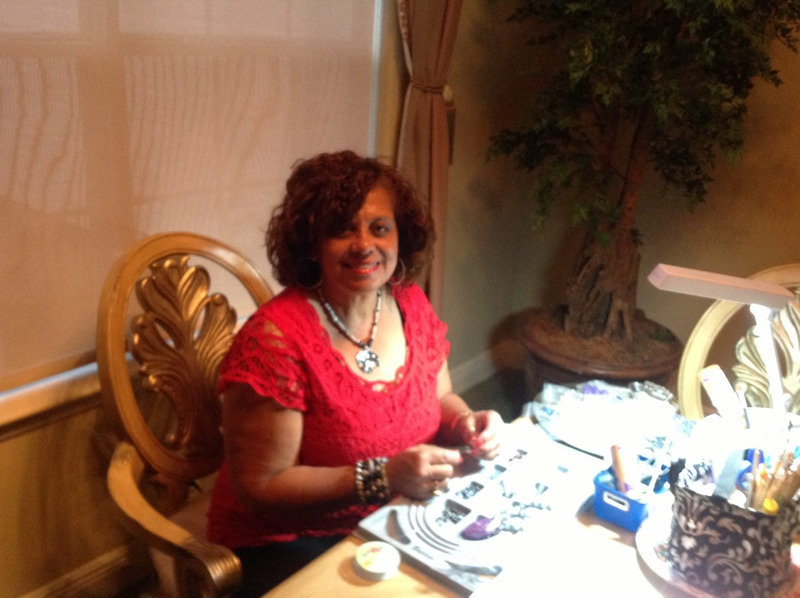 Gwen Tabb
Gwen Tabb is an artist, crafter, and owner of GG's Gems. GG's Gems showcases elegant handcrafted jewelry. Semi precious and gem stones are used in design of individual pieces to make each one a unique glitz and glamour.
Shop Now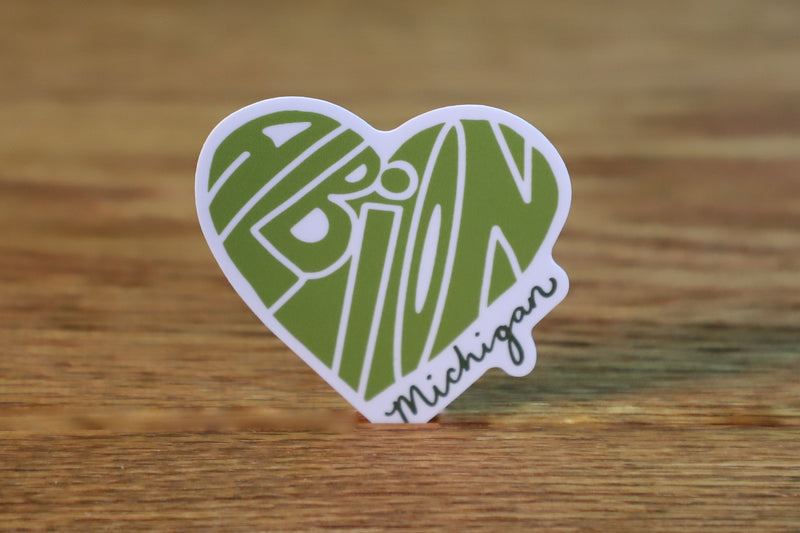 Jadzia Parker
Albion native, Jadzia Parker has done some amazing designs for Pure Albion. As a graphic designer and owner of Jaz Parker Art, the graphics a very eye catching.
Shop Now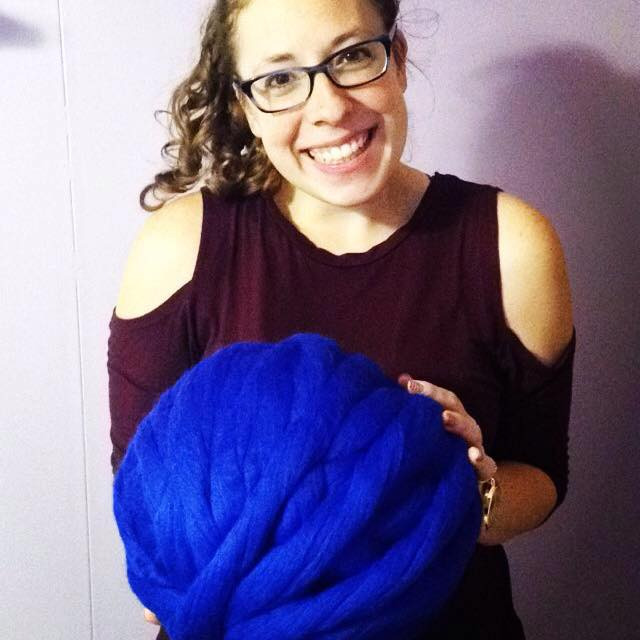 Lea Rakistaba
Lea learned how to crochet in 2014 and started participating in a few craft fairs.  She created Lea's Crochet Corner and began raising money for her fiance's plane ticket from Burkina Faso to the U.S. Lea and her husband live here in Albion where she is a stay at home mom.
Shop Now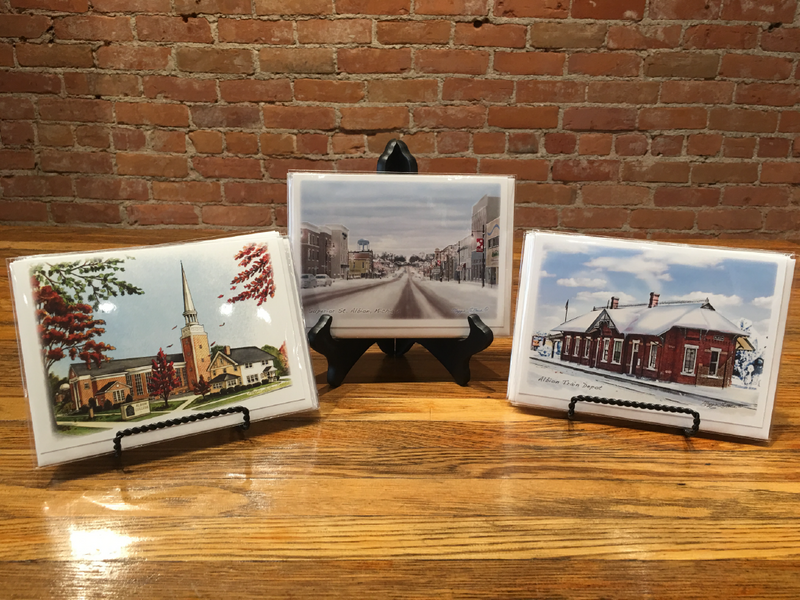 Maggie La Noue
Maggie's business, AlbionDesign.com, offers a variety of printed items, including custom gifts and note cards for corporations, line art prints of Michigan, nature and nostalgia, and Michigan Mugs. Maggie's unique style makes ordinary subjects and objects into works of art. Maggie's goal is to brighten the day of people who see her work. 
Shop Now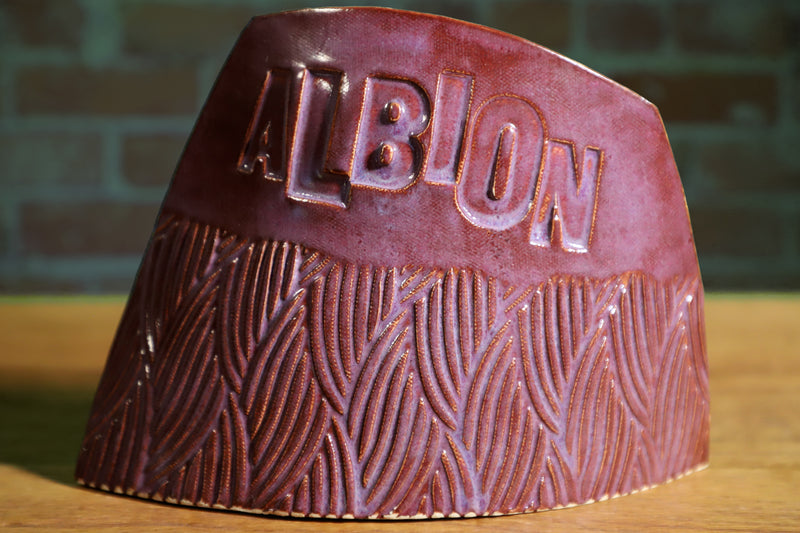 Nobel Schuler
Nobel has a passion for helping others explore and grow through art and he as taught students of all ages over the past 40 years.  Nobel owned a studio, Schuler Arts, for countless years in Albion. Nobel created pencil drawings, ceramics, and more.
Shop Now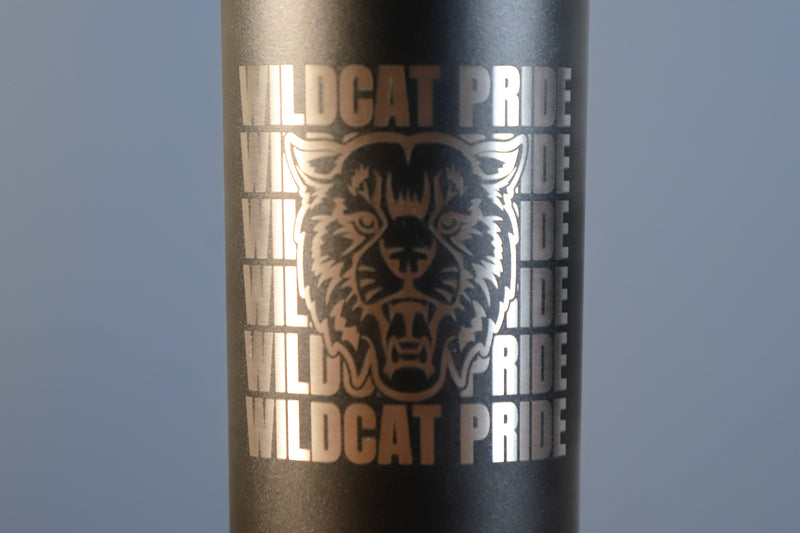 Oscar Cleveland
Oscar is a local artist creating amazing laser and engraved work. You may see him around at the local farmer's market and other showcases as he shares his love for Albion.
Shop Now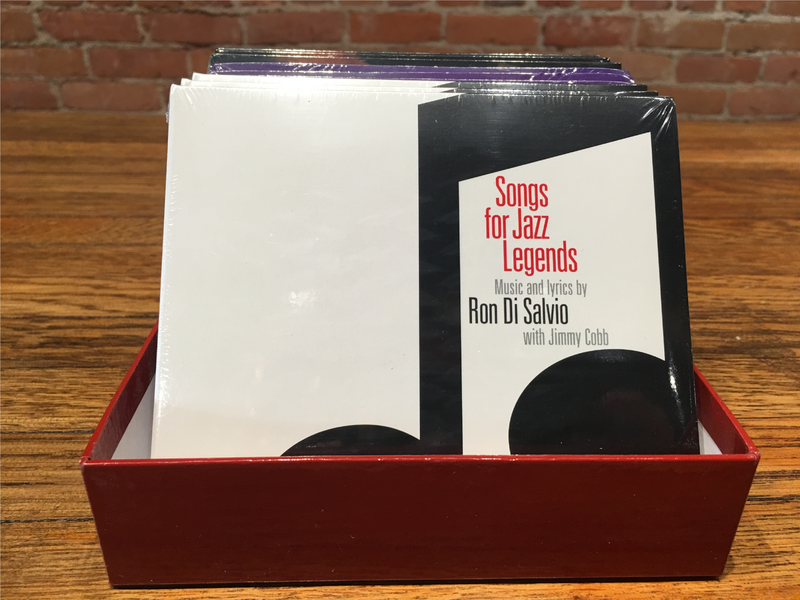 Ron Di Salvio
Ron has been in the music industry for over 50 years focusing on jazz and contemporary genres. You may see Ron around the community performing.
Shop Now